Alfred DeArmey (7/29/1842 - 9/28/1919)
Alfred DeArmey was the son of Peter DeArmey and Mary Ben (or Benn). He was born in Indiana County, PA, and served in the Civil War in the 173 Ohio Infantry. His first wife, Emma Fox, was born in Ireland and died in 1871 in Hanging Rock, OH. He married his second wife, Caroline Kreiter (1852/3 - 3/4/1943) on 12/8/1873 in Clay County, IN.

Alfred and Emma had one son:
Robert M. or Ralph McClelland DeArmey 8/1869 - 9/1961 married Bertha (Harris) King (1884 - 1936) on 2/25/1913

Alfred and Caroline had the following five children:
Frederick K. DeArmey (7/17/1875 - 7/25/1944) Married Anna L. Shingledecher (1879 - 7/19/1954) on 5/12/1903 and had two daughters:

Muirl Huether
Kathryn Ramsey

Mabell DeArmey (9/2/1879 - )
Blanche DeArmey (1/17/1883 - 1918) Married Z. E. Matheny on 8/1/1915
Eb (8/11/1885 - 7/18/1951)
Clem (3/13/1887 - 9/26/1913) Married Marg. Hixon on 9/9/1913
Alfred's death certificate indicates he was born 7/29/1919. Since he died on 9/28/1919 at age 77 years 2 months, he was born in 1842.
Obituaries for Alfred, Caroline, Ralph, Bertha, Frederick, Anna, Eb, Clem
Clem DeArmey was killed in 1913 when run over by a rail car at the clay mine, two weeks after he was married.
Alfred and Caroline's gravesite at Cottage Hill Cemetery, Brazil, IN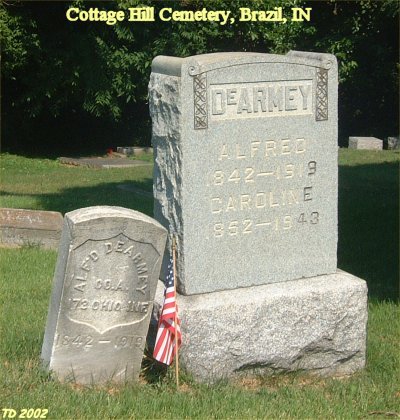 Other headstones in Cottage Hill Cemetery, Barzil, IN
- Blanche (DeArmey) Matheny
- Clem DeArmey
- Eb DeArmey

Headstones are located in Highland Lawn Cemetery, Terre Haute, IN
- Bertha Jane DeArmey
- Ralph McClellan DeArmey

Some references indicate that Alfred and Emma's son was named Robert M. Others give his name as Ralph McClelland.

Clem's obit (1913) lists three brothers: Ralph, Fred, and Eb
Caroline's obit (1943) lists two sons and a step-son, Fred, Eb, and Robert
Fred's obit (1944) lists a brother and a half-brother, Eb and Robert
Eb's obit (1951) lists a half brother Ralph
Ralph and Robert are each mentioned, but never both in the same notice
Alfred's pension files list a son Robert M. born 8/1/1869. Ralph's marriage record indicates his birthdate as 8/1/1870.