Michael DeArmey
Michael (Foley) DeArmey was a son of Joseph B. DeArmey and Catherine (Katie) Ann Livingston.

According to the 1920 census, in January 1920 Michael F. DeArmey was 30 years old, unmarried, and lived with his parents in Johnstown, PA. He was employed as a mill hand at the steel mill.

He married Alice Schrock and had two children.

Mary L. DeArmey 12/23/1926 - 5/3/1990) - Married Chester Weyant

Edward Weyant
Mary Weyant

Max DeArmey Married Amy ?
Michael is buried in Richland Cemetery, Johnstown PA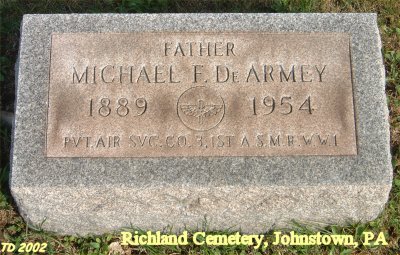 The following is a transcript of the obituary for his daughter Mary:


WEYANT - Mrs. Mary L., 63, 69 
Statler St., Central City, died May 3,
1990, at Windber Hospital. Born Dec. 
23, 1926, in Johnstown, daughter of
late Michael and Alice (Shrock)
DeArmey.  Survived by husband, 
Chester, and these children: Edward 
and Mary, both at home.  Sister of 
Max, Memphis Tenn. Family will re-
ceive friends from 7 to 9 p.m. Satur-
day and from 2 to 4 and 7 to 9 p.m. 
Sunday at The Dalla Valle Funeral 
Home, Windber, where service will 
be conducted at 2 p.m. Monday, the 
Rev. Earl Crissman, officiating. 
Interment, Richland Cemetery.